As we head into the holiday season, I'm linking up with Sar and Meghan's Gratitude Attitude project. What a great idea! Here's what I'm grateful for this week: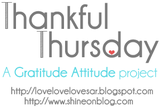 I'm grateful my husband and I have a good relationship with each of our children. I know many people who are estranged from their siblings or parents, and I find that sad beyond measure. I am so thankful to talk to my babies (who are 29 & 26) a few times each week.
Back in the day
I'm grateful to live in the beautiful Pacific NW. Our moderate climate means the weather is never unreasonably hot nor unreasonably cold for more than a day or two, and also ensures we'll get lots of rain. I'm thankful we're out of the path of hurricanes or superstorms, and glad that we won't experience the drastic drought seen by much of the South this year.
I'm grateful for good health! In the past week, two of my brothers each got a knee replaced, and a good friend got his shoulder replaced. My bones may creak and my joints may ache (and I'm too short for my weight), but I'm thankful that my overall health is good.
I'm grateful for sticky hugs from my two favorite goblins.
Mario and a beautiful princess
Hope you are thankful for the wonders in your world. Share with us!